MS is playing tricks with my brain!
Sunday mornings are a time for my husband and I to just kick back and relax at our favorite restaurant for breakfast and plenty of Fresh coffee.
This particular Sunday was a very strange morning at the restaurant for me. You see, I have been experiencing Fuzzy Brain episodes that leave me feeling bewildered. This particular Sunday was very busy with a short wait for a table. This means that there was an unusual amount of people with allot of chattering going on. This leaves me feeling anxious and a bit jittery.
We ordered our usual breakfast food which should not be difficult to do but it is always a challenge for me to get it all said to our server. I have it all in my thoughts, rehearsed a number of times, but when it comes time to say it I stumble with my order. Fuzzy Brain why don't you just let my thoughts and words flow freely from my lips?
While enjoying my breakfast with idle chit chat between bites I began having a total feeling of confusion and my head just felt fuzzy. I just tried to breath through it listening to all the background noise around me.
Fuzzy Brain you are not going to defeat me leaving me home bound. I will admit though being home in the quiet Fuzzy Brain leaves me alone.
Click on any book below to preview and purchase NOW!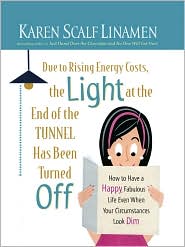 Due to Rising Energy Costs, the Light at the End of the Tunnel Has Been Turned Off: How to Have a Happy, Fabulous Life Even When Your Circumstances Look Dim
How to Have a Fabulous Life--No Matter What Comes Your Way
Everyone experiences those times when it seems like nothing is going right. How can we get back that inner peace we so desire? With her signature wit, Karen Scalf Linamen helps women put it all into perspective. She shows how to feel alive and vibrant despite our circumstances. With hilarious true stories and plain-sense practicality, this book is just what women need when life seems to be falling apart at the seams.
Celebrate the Bond of Sisterhood
When it comes to sisters, there's plenty to laugh about — and this joyful book is filled with humorous stories about the special relationship that sisters share.
Sisters share secrets, sorrows, success, and sometimes silliness. It's this sense of sharing that brings sisters so close — and in that closeness, there are all kinds of reasons to laugh.
You'll giggle and grin as you read stories from some of your favorite authors and comedians — like Patsy Clairmont, Martha Bolton, Karen Scalf Linamen — and new friends you'll delight in getting to know. Whether sisters by family, faith, or friendship, you'll find yourself — and your sister — reflected in stories of childhood antics, shopping trips, midnight heart-to-heart talks, and the many shared "oops!" of life.
As a person with MS, I bring a personal commitment to the work I do.
Visit my website: MS MobilityStrength Multiple Sclerosis