Back in the day when my kids were younger and I was dealing with the diagnosis of Multiple Sclerosis, I was looking for understanding and comfort and came across this book Normal is just a setting on your dryer, written by Patsy Clairmont, a best selling author and humorist. What peaked my interest in this book was the need for Kleenex to catch those tears of laughter and an occasional sniffle of sympathy.
Done! Sold! This book did not disappoint me.
Patsy Claimont's Story
Humorist Patsy Clairmont travels around the country speaking at conferences, retreats, and conventions.
Bio
Every year women go home to regale their friends and family with the latest "Patsy story" and we expect this weekend will be no different. Patsy has a poet's gift for making words dance as she shares her adventures and God's overwhelming love. Who'd have thought the teenage runaway who spent later years housebound with agoraphobia would grow into the gifted communicator and best-selling author you see and read today? (Certainly not Patsy herself!) A proud mama of two boys and "nana" to two more, Patsy and husband Les live in Tennessee.
Best selling books by Humorist Patsy Clairmont~
Click on any book below to preview and purchase NOW!
Humor has the unique power to lift a heart to new heights, to heal the hurts of a bad day, and to infuse the soul with inspiration.
Samplings from some of your favorite authors and comedians include Patsy Clairmont, Martha Bolton, Mark Lowry, Carolyn Arends, and many more. This feel-good book will delight your feminine funny bone and tickle your female fancy.
Take a deep breath, inhale the joy, soak up the merriment, and you'll surely find that your heart is lighter, your day brighter, and your soul hilariously refreshed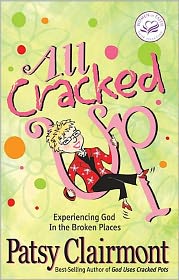 Sometimes if we try we can disconnect from tough problems around us, but eventually the network of fractures spreads to our front doors when a husband walks out, a loved-one is arrested, a friend betrays us, a church splits, a job is terminated, a diagnosis is bad, or a financial picture worsens. Suddenly with no place to hide from the reality we realize life is all cracked up. Through the lens of our pain everything seems broken, bruised, and battered. But, as best-selling author Patsy Clairmont points out, there's a redeemer of our pain--Jesus. The Redeemer of the broken and discarded who mends our hearts, and even gives us a reason to laugh again.
Telling inspirational stories of women's brokenness and healing, with tenderness and her trademark humor, Patsy Clairmont helps us realize that we're not alone in our struggles. Jesus buoys our spirits and refreshes our tired minds. As Patsy says, "life is so much easier to bear when its shared.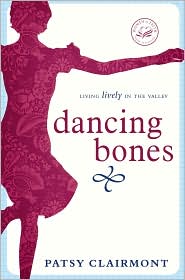 We all want to live on a peaceful mountaintop where we can look down on the world below without getting hurt. With her trademark humor and style, Patsy Clairmont uses the story of "dancing bones" in Ezekiel to remind us that life in the valley can be pretty breathtaking, too. It's often in the valley that we learn and love the most. Rather than running from our troubles, Patsy says true "valley girls" find grace, freedom, and a sense of humor in the midst of turmoil.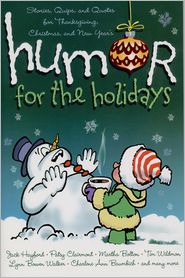 Celebrate the holidays
with the marvelous gift of
Holidays can be both fun and frustrating, can't they? All the chaos that goes with the holidays can make you grin or groan. What you need for happy holidays is to have your stocking stuffed with tasty bits of humor.
Imagine reaching into your stocking and finding a hilarious story by Patsy Clairmont, pulling out funny-bone ticklers by Martha Bolton, Jack Hayford, and Tim Wildmon, and discovering goodies to make you giggle by many other gifted writers.
So grab a cup of wassail, curl up in your favorite chair, and indulge yourself with this heart-lifting book of holiday cheer — it's stuffed full of special surprises to raise your spirits and add joy to your world!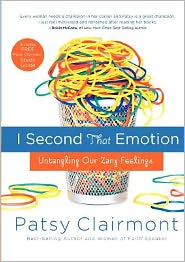 We women are wonderfully made, but, boy, we sure are emotionally intricate. With her trademark conversational style and wit, Patsy Clairmont tackles a subject most women feel at a loss to approach—their feelings.
I Second That Emotion takes one of Patsy's most popular topics at the Women of Faith conferences and shows how you can deal with a turbulent emotional life.
I Second That Emotion pulls some of our emotions out to examine them individually. Don't allow life to push your emotional buttons till you have an emotional meltdown. Instead, let God help you get untangled
Click on any book above to preview and to purchase NOW!
As a person with MS, I bring a personal commitment to the work I do.
Visit my website: MS MobilityStrength Multiple Sclerosis