When you look at this picture do you see a quiet serene place to be?
Yes, when I look at this picture that is what I see, a quiet, peaceful place to be. But, what makes up this quiet serene place?
Can you see the rippling of the water? Or the snow capped mountain tops? How about the many sizes of the trees?
In the hustle and bustle of our fast paced lives we tend to just see the big picture. How sad it is that we don't take the time to look at what makes up the big picture of our lives.
I have MS, diagnosed back in 1997. I am on Avonex to help slow down the progression of this chronic disease. I am 58 yrs. old and recently had to go on disability. Why am I sharing this with you?
Before going on disability I worked part time, raised a family, and have been married for 35 yrs. What did I see? I saw three kids instead of each individual person. I would leave work but could not mentally leave work behind. Well being married for 35 yrs., where did the time go?
Fortunately I have slowed down allot. I now stop to smell the flowers. And guess what? When you do take the time to stop and admire a flower, it really does have a beautiful aroma.
I recently had the wonderful opportunity to spend the month of December, in GA with my daughter and her husband as they prepared for the birth of their first child, our first grandchild. I have never traveled by myself let alone been apart from my husband for that long of a time. This was my time to reflect on my life with MS, where I have been and how my life with MS will continue.
We did welcome into the world Olivia Grace who really is just so precious. What a beautiful Christmas present and addition to our family.
Now when I look at the big picture of my life I see my children, son-in-law, daughter-in-law, granddaughter, family, friends, the work I do with MS, and me as a person with MS.
Life is short! Please take time to smell the roses:)
Thank you for your interest in my MS Blog!
Here is a book that you might enjoy.
Cathy-Ann M. Alexander's inspirational "Wise and Witty Words for Your Life's Journey" is one that's written to help you make a conscious attempt to live a positive life. It is very easy to get off the path of life and be distracted by the non essentials around you. When life seems challenging, always remember to stop and smell the roses. Live a little. Look past your fears. Run that marathon. Take that vacation. Climb that mountain. Laugh, pray, sleep, love, and love again. Life is not a bowl of limits, so allow yourself to explore the endless possibilities it has to offer. And, when it's all over, you can say that you have lived without regrets. "Wise and Witty Words for Your Life's Journey" will help to renew your spirit and set and achieve new goals. So, as you read these inspirations, allow yourself to be elevated to new limits.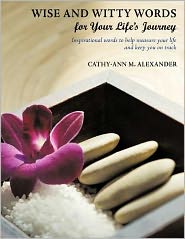 Click on book to preview and order at Barnes&Noble.com